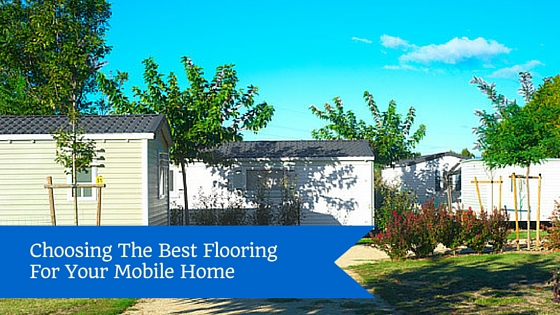 It can be particularly daunting to try and choose flooring for a mobile home or RV especially when your tastes are larger than your budget. Regardless, you do not need to skip quality or affordability with luxury vinyl tile and stone-like vinyl composition tile. Although these materials may not be commonly found in the vinyl tile world, they are meant to be specific to mobile units and replace more expensive stone tiles. These vinyl tiles also have the required flexibility in the areas of physics and style. To get a better understanding of how these types of vinyl composition tile are perfect for your bouncy mobile home floors, keep reading.
How mobile home flooring companies make a difference
Obviously, mobile home or RV floors are not placed on solid ground, and they will need to be slightly flexible. If expertise is not involved, it is easy for mobile home floors to have titles that get dislodged. Along with using special adhesives, mobile home floor companies will be able to pinpoint the exact materials that have the high-quality results you need. In addition, saving money by purchasing a mobile home does not mean that the interior needs to follow a spendthrift model. Instead, luxury vinyl tile is available to the mobile home market and the high quality results are mentioned in many of our testimonials.
Avoid DIY flooring over-spending by buying in bulk
It is easy to locate tiles online that you think you will want for the floors in your mobile home. Sadly, the low prices associated with these tiles are usually part of a bulk deal. Unless you want to re-tile several mobile homes, you may find that buying the tiles individually is not very cost-effective. However, when you work with a mobile home flooring company, they will have tiles suited for mobile homes already purchased in bulk and ready to sell to you at a discount during installation. Plus, if you work with a company to install your tile, they can give you a warranty that will protect you in the future if the product fails for some unforeseen reason.
Choose Basic Components to help with your mobile home floors
While we may specialize in vinyl tiles, we also help our customers get a better understanding of the type of flooring they need for specific RV or mobile home applications. We also help our clients address serious issues such as mold and moisture prevention that can cause tiles and flooring to become dislodged. To get the type of high quality services you need to have a beautiful RV or mobile home, give Basic Components a call today. We are happy to give you advice that you need, and we thank you in advance for choosing us.