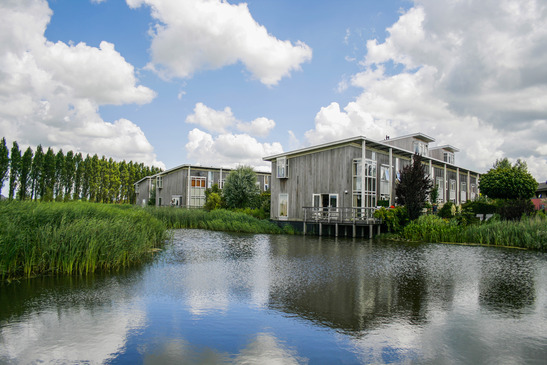 Purchasing a home is a lifetime investment. Homeowners take pride in their property and will usually improve it over time. There are several types of homes that can be built to suit the purchaser's needs, from log cabins to modular homes. Usually the home structure is one of three. They are:
Site-Built Homes
Site built (also known as stick-built) homes are what is usually seen being built on the location. They are built within local, state and federal specifications. The home must pass certain inspections prior to occupancy.
Manufactured Homes
Manufactured homes, formerly mobile homes, can be confused with modular housing. The manufactured home is delivered, on its own wheels, to the site it is to occupy. Usually, manufactured homes are not set upon a foundation. These homes are built using their own parts, not with modular home parts. Manufactured homes are also built according to state and federal specifications.
Modular Homes
A modular home is often confused with a manufactured home. However, they are very different. Both are constructed in a factory, but the manufactured home usually resembles, and in fact is, a mobile home. Using modular home parts, the modular home is built room by room. If a repair is required to the home, there is a special modular home supply which carries the parts. A contractor will make those repairs utilizing the modular home supply company. Modular homes, like the previous home building styles, also have to conform to federal, state, and local specifications. Modular homes have been growing in popularity due to advances in their construction and design, as well as offering plenty of affordable eco-friendly models.
The Modular Home Construction Process
Modular home construction begins with a floor to which walls are attached. The roof is prepared and/or painted and then set in place on the walls. The windows, if needed, are installed along with the dry-walls. After a modular home is built in the factory, it is delivered to its final location on flat-bed trucks where local contractors join the rooms.
Usually, the Department of Housing and Urban Development (HUD) code must be passed prior to occupancy. After June 15, 1976, modular homes had to be constructed to HUD specifications. The specifications are formerly The National Manufactured Housing Construction and Safety Standards Act of 1974.
The home must be constructed within local guidelines and specifications using modular home parts. This means that there are inspections that must be passed prior to occupancy. When the destination has been reached, it is attached according to the HUD regulations. Usually, the modular home supply is not far should it be needed to ensure proper construction.
Modular Home Advantages
The structure is completed in less time than it takes to build a site-built home. Three to four weeks is all that is needed to construct a fine, beautiful home. A standard built home can take three to six months to complete. When it is completed it's difficult to see the difference between the site-build and modular home. Modular homes are constructed quickly in a controlled environment, so the modular home parts aren't exposed to weather or insects, guaranteeing that the finished home is free of mold, mildew and harmful bugs.
Build a Modular Home with Basic Components
If you're in the modular home construction or renovation industry, Basic Components has plenty of quality modular home parts to help you put together a dream modular home. If you're interested in our products or would like to speak to our modular home experts, contact us and we'll get started!
Build a Modular Home with Basic Components!