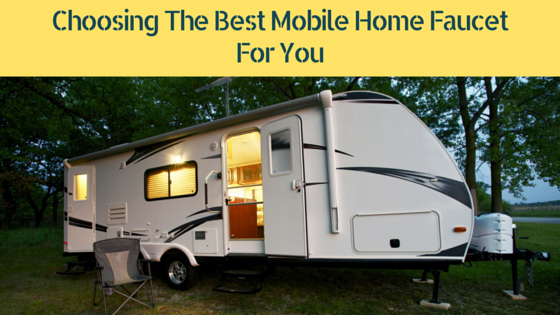 It seems like an easy decision, but choosing the best mobile home faucet for you can be tricky. Every sink needs a certain size and color to compliment a kitchen's look and efficiency. Get some measurement tape and take these steps to find the perfect faucet for your mobile home. 
Get The Right Mobile Home Faucet Size
You may have a specific style in mind for your new sink faucet, but you need to make sure that you have not overestimated the size. In addition to measuring your current faucet, write down the dimensions and use them while you are selecting a new one. Unfortunately, many homeowners find that their mobile home specifically requires a certain size of a faucet. One that is too large or too small can cause complications. 
Two Handle Or Single Handle 
Do you find that there are certain times of the year that your hot water delivery varies? In these cases, you may find that a two handle switch for your faucet helps you get the temperature you want when you turn on the tap. Otherwise, you may never get very hot water in your sink, and this can affect the quality of your dish washing. Naturally, a single handle switch is easier to install, but a local plumber can help you make the change if you do not feel confident doing the task yourself. 
Choosing The Right

 S

pout 
Do you have trouble getting big dishes under your current faucet? If you find that the faucet is too low, consider getting a higher arc spout faucet this time around. However, keep in mind that a higher arc spout may mean more splashing if you have a particularly shallow sink basin. Any spout that you choose should be able to be moved between a sink style that has two basins instead of one.
Pulls Or Sprayers 
With the help of a plumber, you can have a sprayer or pull-style faucet installed. These are commonly seen in restaurant kitchens, and they are incredibly handy in smaller living spaces like mobile homes. The main advantages of the pull-out, pull-down, or sprayer faucet type are retract ability and extending to clean other surfaces. No matter which style you choose, it should be able to be extended to reach all four corners of the sink basin(s).
Do Not Be Afraid To Hire Pro Installers
You may be excited to DIY a project like a faucet replacement, but do not be afraid to call in professionals to do the installation. For example, you may find that there is an issue with adding extra holes. Also, you might need to have someone on hand to do water damage repairs that may be found along the way. Furthermore, due to the tight space in a mobile home, you may also want a pro to help you select the right model. Alternatively, most mobile home owners can at least decide which one is the best faucet for their mobile homes by using these tips.
Visit Basic Components For All Your Home Needs
From a specific product like mobile home faucets to the basics you need to keep your home looking its best, visit Basic Components today!
Click here or call 1-800-452-1780 to start finding the perfect faucet for your budget.