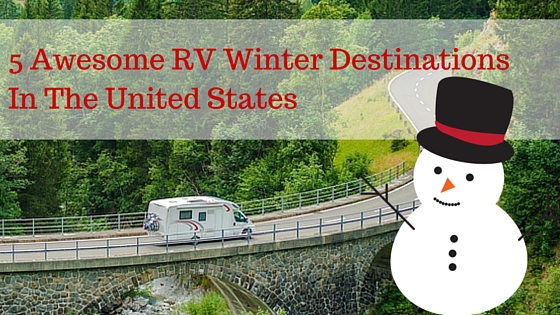 Being able to step into an RV at any time of the year and venture off to countless areas in North America is one of the true joys of owning a mobile home. That's because the freedom of taking to the open road can be an exhilarating experience, especially during the winter months.
Since the mobile home and cold weather aren't really a combination that works well together, looking toward warmer climates should be the plan. Basic Components offers five awesome winter destinations below that everyone should consider visiting:
Arizona
Certain areas in southern Arizona are ideal for energetic activities in the winter months, since more temperate climate exists as opposed to the often brutal heat that envelops the area during the summer months.
These can include such things as golfing on the links or biking on trails. Given the ample amount of options when it comes to RV parks, there shouldn't be a problem finding a place to settle during this time frame.
California
Looking west means heading to southern California, with its beaches. Being able to kick back and spend the day getting some sun and taking a dip in the Pacific Ocean is always a delight.
There's also a vast number of options in an entertainment-based area Los Angeles. Then again, an even more casual vibe is available in the San Diego area.
Texas
Areas of Texas that are worth visiting also have sections of the state that are more inviting in cooler weather. Heading to the Hill Country means you're within the area of Austin, which has become one of the more vibrant parts of the state.
Heading into the Prairies and Lakes area puts you within distance of Dallas for even more big-city excitement. For those more laid-back travelers, a trip to the Gulf Coast might be more compelling.
Florida
Traveling to the Sunshine State during the winter is a tradition for many, and offers a variety of considerations. Staying on the Gulf Coast is an option, unless the entertainment options available in Orlando sound more enticing.
A mobile home helps keep living costs down during this period, and with numerous beach options also available here, some more relaxing is within grasp. It might be on either side of the state, in South Florida or even as far as the alluring Keys.
South Carolina
Heading north from Florida will put you in South Carolina, which offers up areas like Charleston and Myrtle Beach. Both areas are economical options and will be warm enough to enjoy any number of activities.
Basic Components has been around for three decades and knows that the people who use their RV for their winter destinations want the inside materials to be top quality. Our customer service is second to none, so make sure to choose Basic Components to guarantee that any of the winter destinations you select are reached in the manner this lifestyle brings.