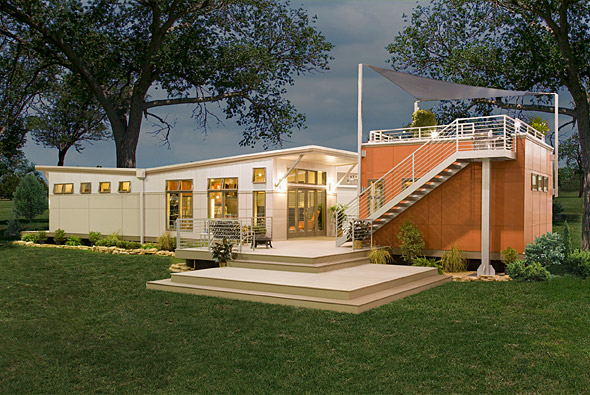 Factory built housing is becoming an increasingly popular choice of home for many people who appreciate the economical and stylish options of prefab living spaces. With a growing community, modular homeowners have access to a lot of useful resources that assist them with a hands-on, DIY approach to mobile home remodeling and design. Since there are plenty of helpful online blogs and forums on mobile homes, the hard part is wading through them all! To save you time, our factory built housing experts have done the research and picked the 5 best blogs and forums for prefab homes:
1. Mobile and Manufactured Home Living
http://mobilehomeliving.org/
This is a great site dedicated to prefab home living and mobile home remodeling. There is plenty of beneficial info and pictures of beautiful modular homes, DIY project guides and excellent makeovers. The site features submitted remodels so you can see what others have done with their homes and find inspiration for your own. If you do get inspired and decide to fix up your own mobile home you should let the folks behind Mobile Home Living know about it – they might feature your project!
2. The Shabby Creek Cottage
http://www.theshabbycreekcottage.com/
A close second place, The Shabby Creek Cottage is an excellent blog for modular home owners who appreciate a well-designed mobile home. Gina, the creator of this blog, is an expert in mobile home remodeling and shares her personal experiences with renovating and decorating her own double wide. This blog contains plenty of tips and design ideas for mobile home owners with an eye for the creative!
3. Do It Yourself
http://www.doityourself.com/scat/mobilehomes/
This blog focuses more on mobile home repair than renovation, and therefore offers plenty of helpful advice on repair methods and mobile home parts guides. It is efficiently organized, making it easy for even the most frazzled mobile home owner to find the help they're needing to finish a project that has gotten out of hand.
4. eHow
http://www.ehow.com/mobile-home-repairs/
The resources and guides offered by eHow are some of the most recognizable on the Internet, and they've got an entire section of their site dedicated to mobile home remodels and repair. There are tips and articles on maintaining and updating modular houses. It's a bit more difficult to navigate from article to article, but once you do find the info needed, eHow has it neatly arranged in simple steps, list of items needed, etc. Pretty much everything we love about eHow, only better because it's a resource specifically for mobile home owners!
5. MobileHome.com
http://www.mobilehome.com/phorum5/list.php?2
Last, but absolutely not least, on our favorite mobile home remodel blog list is MobileHome.com. This isn't the prettiest website of the factory built home blogs we reviewed, but they make up for it by containing an immense amount of information, tips, guides, and suggestions for modular home remodels, repair and maintenance. This is more of a forum than a blog, which is a huge benefit as you can read about other homeowner's experiences, hear from hands-on experts and ask your own questions. If you're a mobile home owner, this site should absolutely be bookmarked, as the information it provides is invaluable and you'll find yourself returning to it again and again.
Need Help with Mobile Home Remodel?
If you have taken on a modular home renovation or project, we'd love to hear about your process and see the progress! If you've got questions regarding mobile home parts, remodeling process, or design plans, feel free to contact our mobile home remodeling experts! We'd love to help you find solutions!