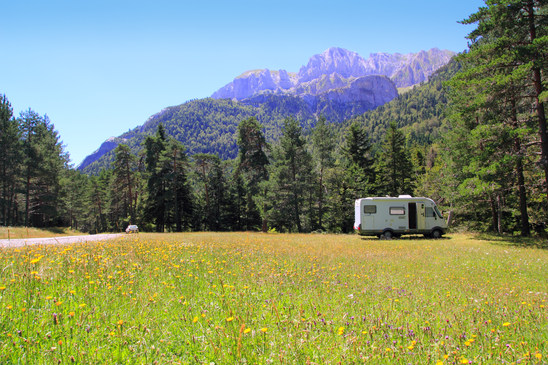 Vacationing in a recreational vehicle (RV) is an adventure and pleasurable experience for young couples, retirees or the whole family. The allure of RV traveling means that you can bring your own hotel with you, yet park in an environment that lets you enjoy the outdoors in a camp-like setting. With all the amenities that a typical RV provides, there are some convenient and exciting RV accessories, toys or gadgets that will add to the overall enjoyment. RV accessories range from items that would be considered icing on the cake, to "must-have" RV parts.

1. Must-Have RV Accessory – Shade Canopy
A shade canopy, or awning, falls in the category of a must have, especially if the vehicle comes without one. They are great for protecting against the sun's glare, drizzle or rain. Shade canopies come in a variety of sizes and in different color schemes and prints. You can choose a color that coordinates with your vehicle. Choose a good high-quality fabric that is resistant to weather, fading and mildew. It is not advisable to skimp on the price, which can range anywhere from $100 to $900, depending upon the source. During an RV remodel, you should always extend the canopy and check it for wear, cracks and seam separation. An RV supply house will have the perfect fit for your needs. An RV remodel shop will also stock canopies and awnings which are more likely to be custom fit for your coach.
2. Best for the Family RV – Child Gates
Child gates can also serve an important function in an RV setting. They can keep crawling infants and very small children from entering the cooking area while a meal is in progress. They also can serve to corral pets, keeping them in a confined area while moving or transporting articles from the interior to the outside. Two child gates can cordon off a small area and serve as a packing spot for light-weight objects, such as clothes, pillows and blankets.
3. Best for Cooking Inside the RV – 12-Volt Crock Pot
The 12-volt crock pot is a great addition to any RV's culinary equipment inventory. Crock pot meals are especially delicious and able to feed a large family or multiple guests. They can't be beat for producing bean, stew, vegetable and casserole dishes. You need only to plug them into the cigaret lighter receptacle, set it on the desired cooking mode and forget about it, without having to monitor it. An RV parts or RV supply house will have the right one for you.
4. Best for Outside the RV – Portable Hammock
A portable hammock is one of those leisurely, outdoor resting-sleeping platforms that is hard to beat. After all, recreational vacations are all about rest, relaxation and comfort. Look for a lightweight hammock made of sturdy, weatherproof material that has end tie hooks which can be drawn and tied between two trees. You can opt for a collapsible aluminum frame which assembles in mere minutes.
5. Best for Maintenance – Extra Sewer Hose
Nothing can be more frustrating than hooking up a sewer hose which has been damaged by incorrect storage, animal interaction or has just worn out and cracked. They should be checked frequently, before and after use. It's wise to have a new spare on hand just in case your hose decides to spew waste instead of transporting it to its desired location. An RV remodel outlet or RV parts store will have the correct length and diameter hose for your RV sewer system.
6. Best RV & Camping Accessory – Shake Flashlight
It seems the time you need a flashlight for an emergency is the time you discover the batteries are dead and you are destined to remain in the dark. This can be particularly hazardous when negotiating an unfamiliar campground at night filled with hidden obstacles, or checking your engine for a mechanical problem. They also come in handy for an RV remodel task when you need to explore plumbing and electrical components under the floor paneling. Shake flashlights are battery-less and only require some vigorous shaking for about 30 seconds to produce good illumination for 5 minutes or so of use. You only have to repeat the shaking motion to restore it if the light dims.
Make Sure Your RV is Ready for Summer!
The first day of summer is just around the corner! Make sure your RV is updated with quality RV parts and geared up with the latest RV accessories with RV supplies from Basic Components. If you're looking for an RV accessory to make your vacation better, or if you need assistance with RV repair, we'd love to give you a hand. Don't hesitate to call us and speak with one of our RV supply experts.