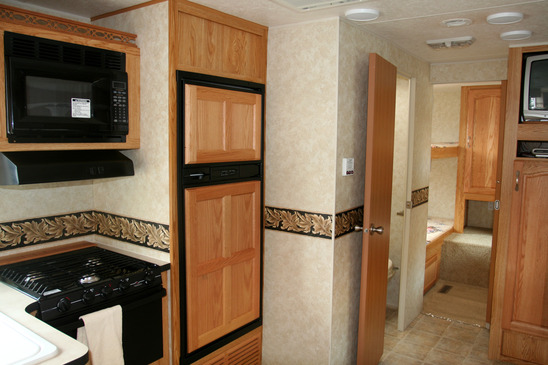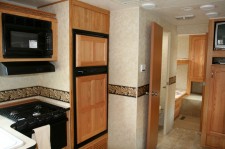 Whether you bought a fixer upper or just want a new look, it may be time to remodel your RV. Your RV was likely a great investment. Keep it looking nice with updated flooring, fixtures, and walls. Also, it is extremely important to make sure your RV stays protected from the weather and insects. You can find all your quality RV remodel supplies at Basic Components, Inc.
Flooring
Replacing old flooring in an RV can completely change its look. Campers' muddy, sandy, or wet feet can take its toll on RV floors. An updated floor will make your RV look like it is brand new again. Our luxury vinyl tile flooring can take a beating and still maintain the beautiful, just-installed look. It has the appearance of real stone tiles, like ceramic and slate, without all the fuss. Choose a darker stone like Nubian Desert for a sophisticated motif. Some area, such as the bath area of your RV, may need a light look. You can install a color, such as Verde Slate, that will reflect the light in a pleasing way. Any additional RV remodel supplies for flooring can be found at Basic Components, Inc.
Faucets
If you are going to undertake an RV remodel diy is the way to go. It may not seem like a significant change, but changing out faucets and fixtures can get expensive. There are some options that a more affordable than others. Oil rubbed bronze in the non-metallic faucets at Basic Components are a beautiful, economical choice for a sophisticated look. It costs slightly more than the chrome faucets. For an upgrade from the non-metallic versions, the antique bronze faucets have the same sophisticated look. The difference is that these faucets come with more options. Lever handles are especially in style for RVs. There are more RV remodel parts for faucets available that are both beautiful and functional.
Walls
RV walls are often made of paneling. If your paneling is damaged in any way, it can look outdated and dirty. This can be easily replaced to update the look of your RV. Choose a neutral color that isn't overbearing for the small space of an RV. When you are installing your paneling, it is best to use a strong adhesive. Our OSI SW-325 Heavy Duty Shear & Construction Adhesive is one of the best adhesives on the market for holding RV paneling in place. It can withstand the bumps of the road and the test of time.
Seals
The seals in RVs should be checked routinely. Because you are not in your RV as much as you are in your home, an area that could let in water or insects has more time to cause much more damage. Check seals around windows, doors, vents, and hoses. If you need to reseal a seam, use a quality sealant like our Dynamite® 3000 Siliconized Acrylic Caulk. The manufacturers are so sure that it will provide a reliable seal, they offer a limited 40 year warranty!
Updating and maintaining your RV is important. If you RV remodel DIY style, make sure you use quality material and follow all the provided instructions. This will ensure that the investment you made in your RV will stay in great condition for many years. When you choose Basic Components for your RV remodel parts, you can be sure you will get quality materials.